Featured Item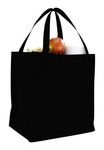 Non Woven Grocery Bag w/ Full Gusset - B...
Non Woven Grocery Bag with full side & bottom gusset & covered reinforced bottom. 22" reinforced handles. 80 gsm non woven polypropylene. 12 1/2" W x 13 1/2" H x 8 1/2" D
$1.02
Promo Items At Their best
Get Your Logo Imprinted By Experienced Specialists
The right promotional item will keep your company's name in front of your customers for weeks, months or even years. To help you find the perfect item, we offer the best selection of innovative and cost-effective trade show and event giveaways—everything from key chains and pens to hats, golf bags and much, much more!
Call us today and speak with one of our marketing experts. They'll show you all of our exciting options and help you select the promotional item that's right for you. We'll brand it with your company's logo and make sure you receive it on time and just as you ordered.
First impressions are everything. As a business you know the importance of marketing your service or product in order to see your revenue grow...Get your customers excited about your promotional gifts.
"Americans have spoken: They love promotional products. For more than 200 years, these vehicles of promotion have integrated their way into daily life, serving not only as useful tools, but as powerful, long-lasting advertising." -PPAI Research